Unbeknownst to the other, both G & I had bookmarked
this gorgeous pomander on Whipperberry
(based on the
original tutorial by Frog Prince Paperie over on Pizzazzerie
). On a joint shopping excursion, we realized our common admiration for the beautiful floral ball and had an epiphany. This paper flower application would be perfect for a spring wreath!
But it wasn't enough to do just one wreath. No, we don't go halfway here at DSSP. Rather, we
each
decided to do our take on it. We so enjoyed sharing our Valentine's wreaths with you that we couldn't resist giving you another edition of "A Tale of Two Wreaths", this time, with a tutorial!
Tools:
We used a
2" flower punch
and a
3/4" flower punch
.
Supplies:
Note: quantities are based on our experience with a 12" wreath form.
1. 3-4 sheets of 12x12 scrapbook paper for the larger flowers. I used two patterns, so I needed 1-1/2 sheets of each (so I had to buy 4). G used the same solid paper on hers so she had 3 sheets of the same paper.
2. 1 sheet of 12x12 scrapbook paper for the small flowers. You will use maybe 1/4 of the page for these, so don't be afraid to pull out scraps if you are a paper crafter and have a stash like mine.
3. 1 pack of 100 pearl tipped stick pins. With our size of wreath, the 1-1/2" long pins worked just fine! And we didn't use the entire box
4. One 12" foam wreath. Note, if you are doing a green paper, it might be good to start with the green floral foam wreath. We both started with white, which does show throw slightly in some of the gaps. But based on our color schemes, that just added charm!
Instructions:
1. Punch out all those flowers. Take frequent breaks, or you'll end up with FPHS (Flower Punch Hand Shake) like me.
2. Layer two of the larger flowers with one of the smaller flowers on top, centered. You'll notice on my wreath, I used two patterns per combined flower – one punched from each paper. I picked the white based one for the back flower so that it would allow any gaps between my flowers to disappear since my wreath form was white.
3. Hold the layered flowers against your styrofoam wreath form and using a stick pin, push through the center of the flowers until the pin is all the way in.
4. Rotate one of the larger flowers so the petals are offset between the two layers. Then fold up the petals of both the top large flower and the small center flower.
5. Continue, making sure to offset the flowers like the photo above. It will help fill the gaps and give you a more attractive and random design. Remember, you don't need to fill in the back, assuming it will be hanging against a door or wall. If you decide to fill the back, you will need far more flowers/pins.
You can pin a looped ribbon to the back if you want to hang it on your wall or from your door! Remember, this is a paper wreath, so only hang on your door if it is protected from the elements.
We love the simple clean style of the wreaths without any adornments, but we thought it would be fun to see what a little pop of color would add to my wreath. So I used my scrapbooking skills to whip up some simple contrasting flowers.
I traced some random household items (spice jars, jar lids, etc.) onto the back of some coordinating paper in a different color and the paper I used for the back flowers. Then I freehand cut the varied circles – trust me, you want them to be a little wonky! It truly makes them look better!
After layering them in alternating colors, I added one of the mini flower punches to the top, and stuck a pin through the entire stack. I made three of these, two in smaller sizes than the third.
Then I sprinkled the paper with some water, crinkled them up a little, and set them to dry.
Once dry, I pinned them in a cluster on the wreath where I'd removed a few of the green flowers.
We both used light colors, which created gorgeous wreaths worthy of display to welcome spring. But the possibilities are really endless with this design.
G's solid color wreath gave a more modern and charming feel, while my lightly patterned paper wreath gave mine a more delicate look. We think it would be fun to use this approach with different styles of paper – bright colors, different solid colors in one wreath, etc.
We'd love to hear your ideas on how to make this beautiful wreath your own! Please share in the comments. And if you make one of these wreaths, PLEASE email us with the results. We really love to see what you do with it!
Linking to: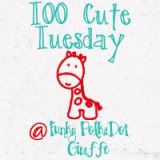 .