Thanks to our unusually busy social calendar this coming weekend, I'm not going to be able to have our much loved pumpkin carving party again this year! But that won't stop me from doing a little carving with the little guy. And what better to serve at a pumpkin carving party (whether it is party of 3 or 10) than roasted pumpkin seeds! Here are some fun recipes!
Sweet Recipes
1. Caramelized Pumpkin Seeds from Cooking with My Kid.
2. Cinnasweet Pumpkin Seeds from With a Shot of Brandy.
3. Maple Spice Pumpkin Seeds from The Bird's Papaya.
Spicy Recipes
4. Taco Pumpkin Seeds Recipe from Taste of Home.
5. Spicy Pumpkin Seeds from Martha.
6. Fiery Pumpkin Seeds from Taste of Home.
Savory Recipes
7. Roasted Pumpkin Seeds from The Girl Who Ate Everything.
8. Maryland Style Pumpkin Seeds from Cherry Tea Cakes.
Or if you can't decide, serve Pumpkin Seeds Three Ways from 101 Cookbooks!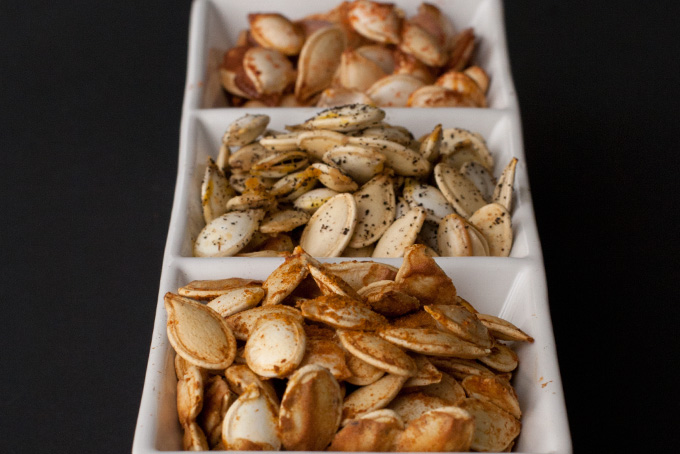 Finally, if you are having a Halloween party (or a Halloween baby shower like this one!) package up the pumpkin seeds in cute little favor bags like these from Hopscotch Studios featured at Bump Smitten!
If you need some more pumpkin seed recipes, check out this post!
So do you throw or attend a pumpkin carving party before Halloween?