I have a confession to make. I don't like pie. Any pie - pumpkin pie, apple pie, peach pie, you name it, I don't like it.
I know, I know, some of you are appalled and will probably never speak to me again. I am actually considering making these adorable cupcakes instead for Turkey Day! The best part? They use up your leftover Halloween candy!!
1. These
Indian Corn Cupcakes
are amazing! They corn kernels are actually Jelly Bellies and the husks are Phyllo dough!!
2. These
turkey cupcakes
by
Spearmint baby
have M&M eyes and melted Starburst candies for the tail feathers. I'd sure love to gobble these bad bays up! (get it? gobble?)
4. These
Pilgrim Hat Cupcakes
by
Hoosier Homemade
are clever!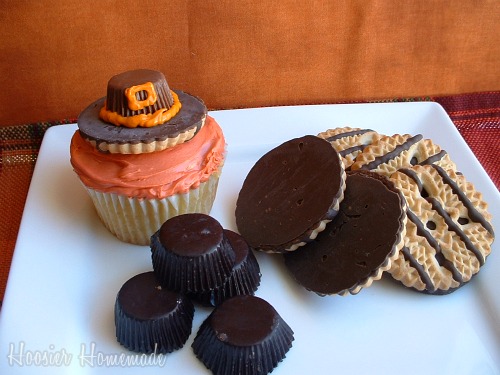 5. You have to admit that
Larry the Turkey
is pretty cute! Love the bonus mini-cupcake on top.
Am I the only person in this country who isn't a pie fan? Or is the abundance of Thanksgiving cupcake ideas out there prove I'm not alone? You be the judge.