When I make cookies, I am often known to hold back about half of the dough and refrigerate it so that I can bake fresh ones every night. There is simply nothing like a warm and gooey cookie to make a body feel good! So - how about a cookie exchange that offers everyone the opportunity to bake them up whenever they like? There are so many options for great cookie-in-a-jar recipes - not to mention the endless options for making cute labels and tags for the jars. YES! I call that a two-fer...cookies and crafting. What a fun twist on a cookie exchange! Here are some ideas.
Bakerella
has the most beautiful ideas for everything about baking. Take this recipe for
Cowgirl Cookies
and adapt it to the holidays. Use red, green, white or maybe ice blue M&M's to suit the season!
Toffee Blondies!
How gorgeous is this presentation by
Baked Bree
?
Ok - so technically it's not a cookie, but who doesn't love brownies?!?! Try this
Brownies in a Jar
recipe from
Better Homes & Gardens
.
And since you can see the jar in the picture, we might as well throw in the
Trail Mix Bars in a Jar
recipe from
BH&G
as well. Especially since we'll need to hit the trails after all these cookies!
Take a gander at some of these other layer mix recipes:
Snowball Cookie Mix
Cranberry Drops Mix
Butterscotch Cookies in a Jar
Chocolate Cookie Mix
Does your host have a dog? Why not stick with the theme and bring a little
something for the canine
? I love this idea from
All Free Crafts
!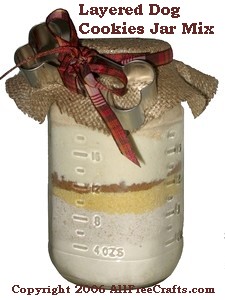 The sky's the limit with this idea! Have fun...