We have some friends in our neighborhood that throw a fantastic holiday party every year. The best part? It's a toy drive for the local children's hospital. They gather the information on the toy needs from the hospital and distribute it with the invitations. Guests bring their donations and the hosts deliver the goods the week after the party. Of course there is delicious food, great music and fun conversation also offered!
Double bonus for the hosts I'm sure is to see the faces of the volunteers accepting their huge haul.
Even if we can't join the party (like the year I was 9 months pregnant), we make sure to participate in the toy drive. It's very convenient that we don't have to hunt down where to make the donations and what they need. We just buy and deliver! And it is a great way to help the kiddos understand the importance of giving back by involving them in the shopping.
If you are interested in throwing your own Toy Drive Party, here are some ideas of where to find a donation program:
1. Toys for Tots is nationwide run by the US Marine Corps.
2. Research programs for your local children's hospital. Here's info for Denver.
3. Research your local homeless shelter to see if they have any needs. G and I both are supportive of a local program called The Gathering Place. They don't have requests out for toys, but then again, your party doesn't need to have a toy focus - collect items for any program you support. It's a great way to get your guests familiar with a program that is near and dear to your heart.
4. If you live near a military base, contact them to see if they have any gift programs for military families that need help.
5. If you are active in your church, put out a call for families in need.
Why am I bringing this up so early in November? Because I'm a deal hunter. The cheaper I can get the toys I'm donating, the more toys I can donate. There are some good deals out there already and I wanted to give you enough time to be on the lookout.
Board games are always on the list for collection, and there are some fantastic deals out there for them throughout they ear. Earlier this year I bought a few Monopoly games for less than $3/each at Target. But this week happens to be the Game Sale of the YEAR at Toys R Us (some are just $1 after mail in rebate!), so if you are planning on throwing your own Toy Drive Party, this would be a good time to pick up some items. Or give a heads up to your friends that the party is coming so they can get the shopping done while the prices are good.
Find the details at
Krazy Coupon Lady
here
.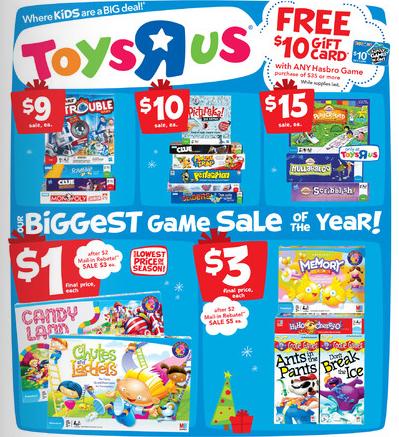 Have you ever been to a Toy Drive Party? Think you might throw one this year?