G & I combined our cookie exchange (more details to come!) with a handmade gift exchange. We are friends with some crafty ladies and it is a fun way for us to share our goods!
I had a tough time deciding what I was going to give this year. It was kind of a last minute decision to include the handmade exchange (we did it last year but didn't plan ahead this time) so I needed some last minute options.
I've been pinning (do you pinterest? I LOVE it!) a ton of handmade ornament ideas, including the cute ones that G featured in this post. And I love the way our paper ornaments in the Holiday Exchange Party Packs turned out, so I knew I could include that one. So a group of handmade ornaments seemed like a perfect solution to my gifting dilemma.
I ended up with a hodgepodge of ornaments, and a great experience in trying all sorts of different crafts. Here's what I ended up with and the tutorials I used to make them.
1. I knew the moment I saw the post on Listen In featuring a tutorial for fun paper flowers that I wanted to figure out a way to use them. What better use than a handmade ornament? I followed the tutorial, just made it two sided by using a larger backing circle and adhering a different flower to each side. One side has a pretty brad on it, but the other is an old button that I hot glued on. Love it!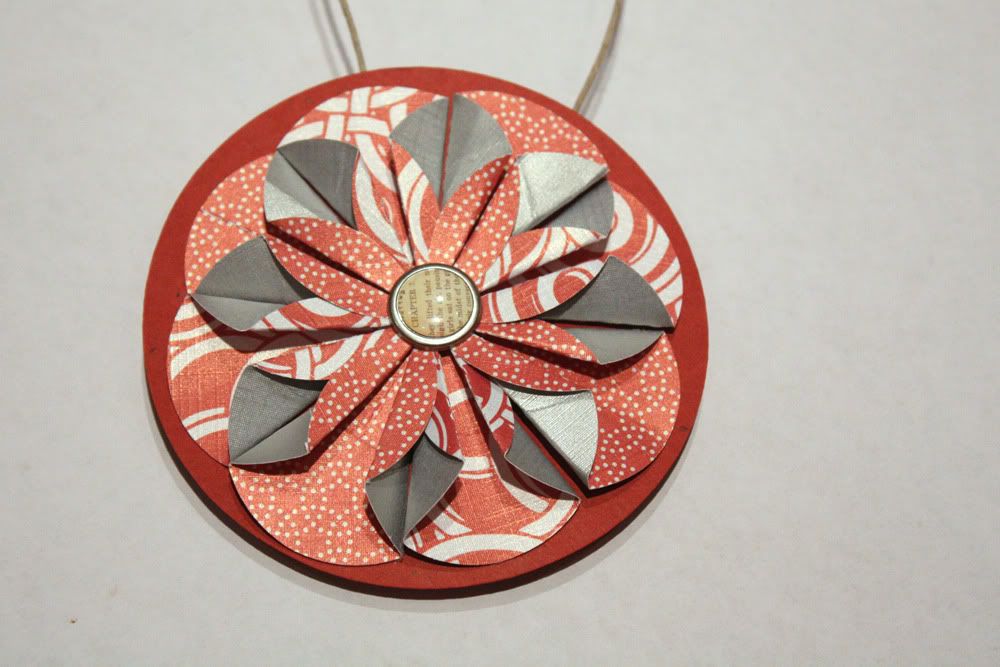 2. Of course I made two adorable pinwheels in the same style (although different colorway) as the ornament in our pack (although one I made without the scalloped edges). I used the tutorial from the magazine Simply Homemade. Although I've seen them elsewhere too!
3. Then I gave the paper globe tutorial by Heather Bailey a try (the link to the .pdf tutorial is on the right sidebar of her blog). It was definitely the most difficult and time consuming of the ornaments I made. It turned out pretty, but of course I can see every defect in it because I made it. My biggest tip in making these is make certain the triangles in your circles have perfect points - prevents gaps between the "petals".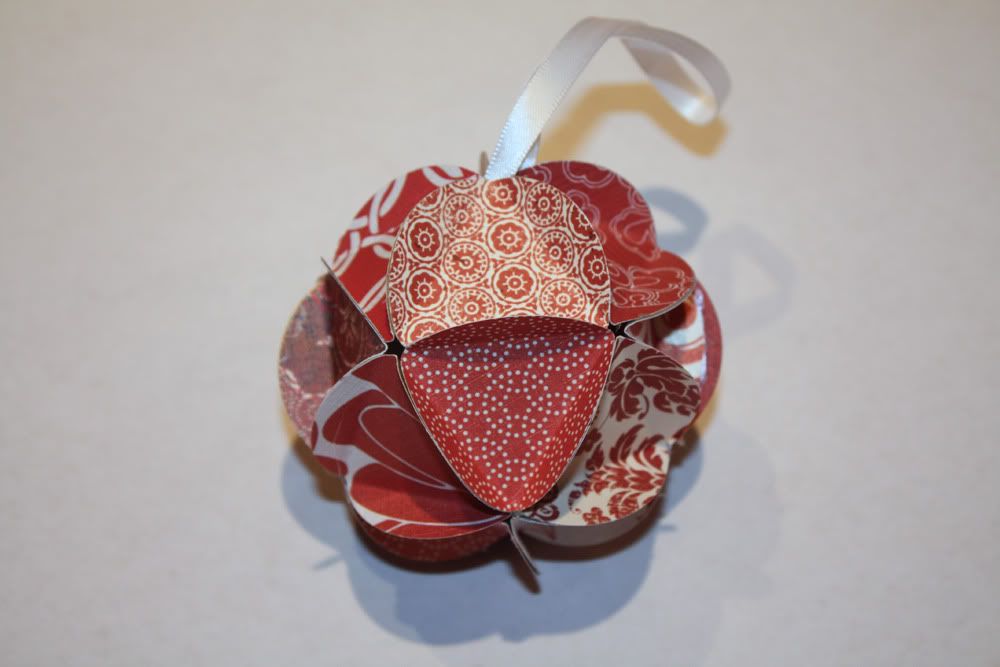 4. I found the tutorial for these Finnish stars via Maggie Makes. Love hers, which she made from fabric. I made this one from paper. I was lacking in pretty two sided paper (especially with a small print that would be noticeable in this scale), so I'm definitely going to try this one again after I buy paper specifically for it!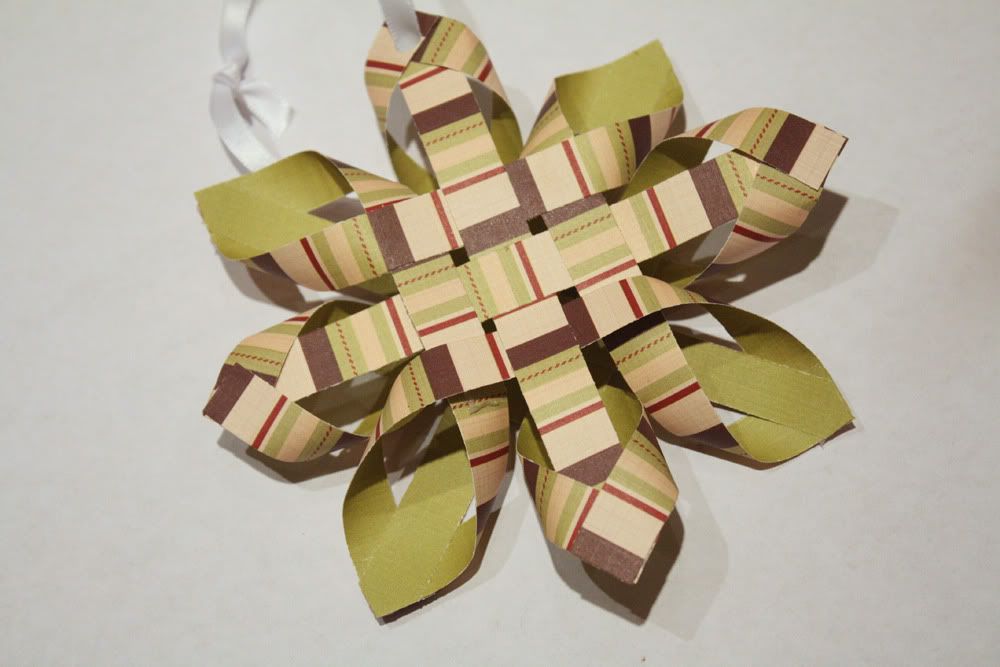 5. Since I was on the paper kick, I had to give these easy paper flower ornaments a try by How About Orange. Aside from a stapler that was a touch too small, these were the easiest by far! She recommended simple colored office paper which worked great, although I think some thin double sided scrapbook paper would work too. I added a little decoration to the centers via hot glue.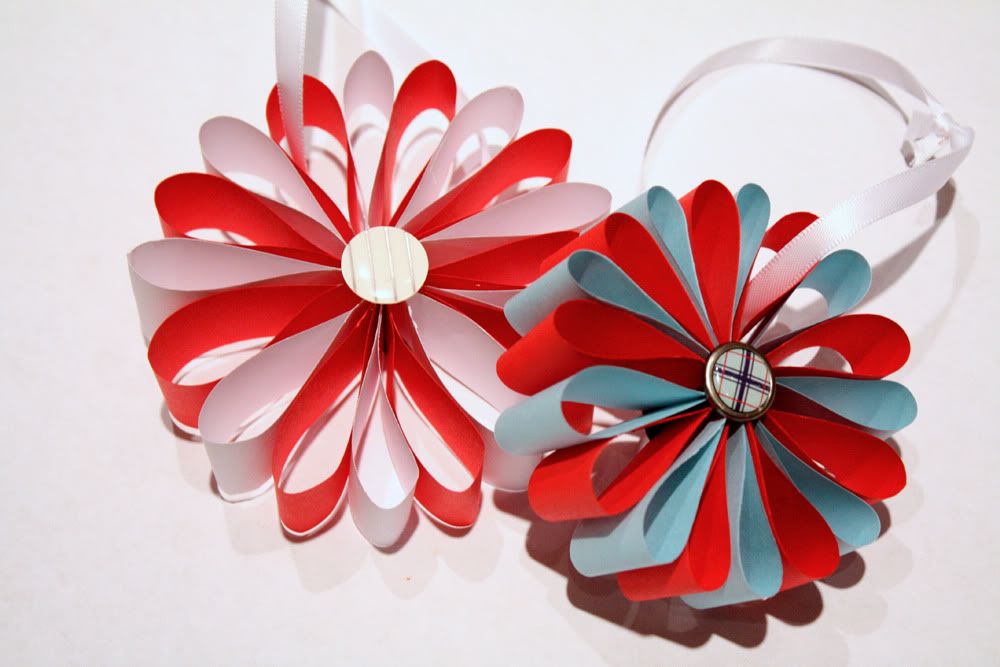 6. Finally, I fell in love with this bird mobile I saw on Spool, and thought I'd attempt the tutorial on a single fabric bird as an ornament. Love it! It's a little wonky, but that's handmade charm, right? That is what I'm telling myself (of course G, the expert seamstress, could knock this out of the park - I'm a sewing newbie so I'm cutting myself some slack) Definitely learned on this first one and think making a whole slew of them would be a cinch!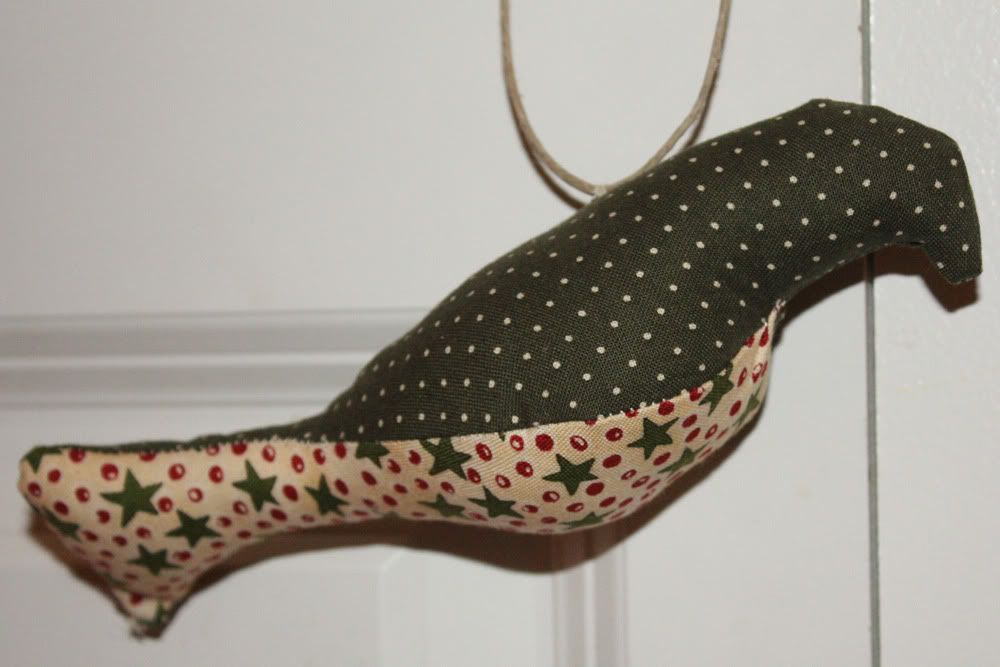 All in all, it was a super fun experiment in small manageable doses. I love mini projects like this that have instant gratification. Any of these projects is great for an ornament exchange, a gift exchange, or a simple gift for a friend or teacher. Another cute idea would be to tie them with ribbon to the top of your wrapped packages - I'm a sucker for a gift with cute wrapping!
Of course if you are planning an ornament exchange, one with a handmade theme would be a great option. And our Holiday Exchange Party Pack would be the perfect complement!
We'd love to hear what you think! Which is your favorite? Or have you tried your hand at a different crafty ornament this year?