I love when the weather gets cold and I have a nice hot mug of yumminess to warm me from the inside out. Hot drinks like these would be perfect for your holiday party. These recipes are kid friendly, but who are we kidding - we all know they would be better spiked so don't be afraid to serve them at your grownup parties too!
Hot chocolate is a perfect treat on a cold day. And everyone knows adding marshmallows makes it even better. But S'mores Hot Chocolate? Why didn't I think of that? Genius! Our Best Bites has the recipe!
I have what some might say an unnatural obsession with Nutella. Babble has two different recipes for Nutella Hot Chocolate, which is only slightly less decadent than just eating the Nutella by the spoon, but far more acceptable in social situations.
The kitchn
has listed seven different ways to make your hot cocoa special, including one using infused tea. Imagine a chai hot cocoa - YUM!
And nothing screams holiday beverage quite like hot apple cider. So why not try this Caramel Apple Cider recipe from Our Best Bites?
Better yet? Serve your cider in hollowed out apples like Gimme Some Oven!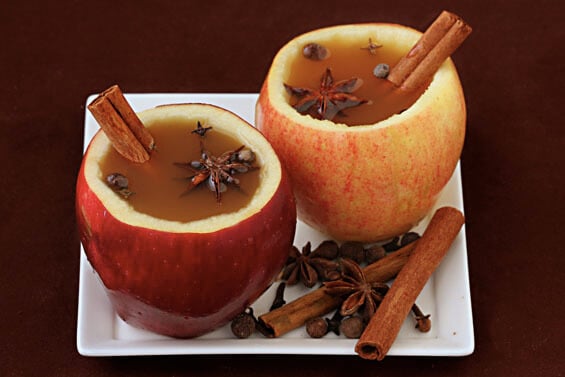 I know Wassail is typically loaded with bourbon, but this recipe from The Kitchn looks fantastic even without. I'm thinking it would be smart to make a large batch for everyone, then convert half to adults only. :)
And when you are ready to wrap up the festivities, serving this Warm Spiced Milk would definitely calm things down. Note to
Self: Try this Babble recipe on my 2 year old tomorrow.
Make sure to come back tomorrow for a roundup of adult only recipes!
Happy sipping!