The craft/food blog world is bursting with ideas that can be used in your next birthday party event. I'm excited to announce that we are expanding our Friday Finds series to include some unique ideas to complement your event!
The new finds might be food related, craft related, or simple activities for the celebration. We'll still feature Friday Finds with great items from other etsy shops, but we thought it would be fun to expand the ideas to those that are more DIY.
This week we decided to feature our cute Butterfly party pack.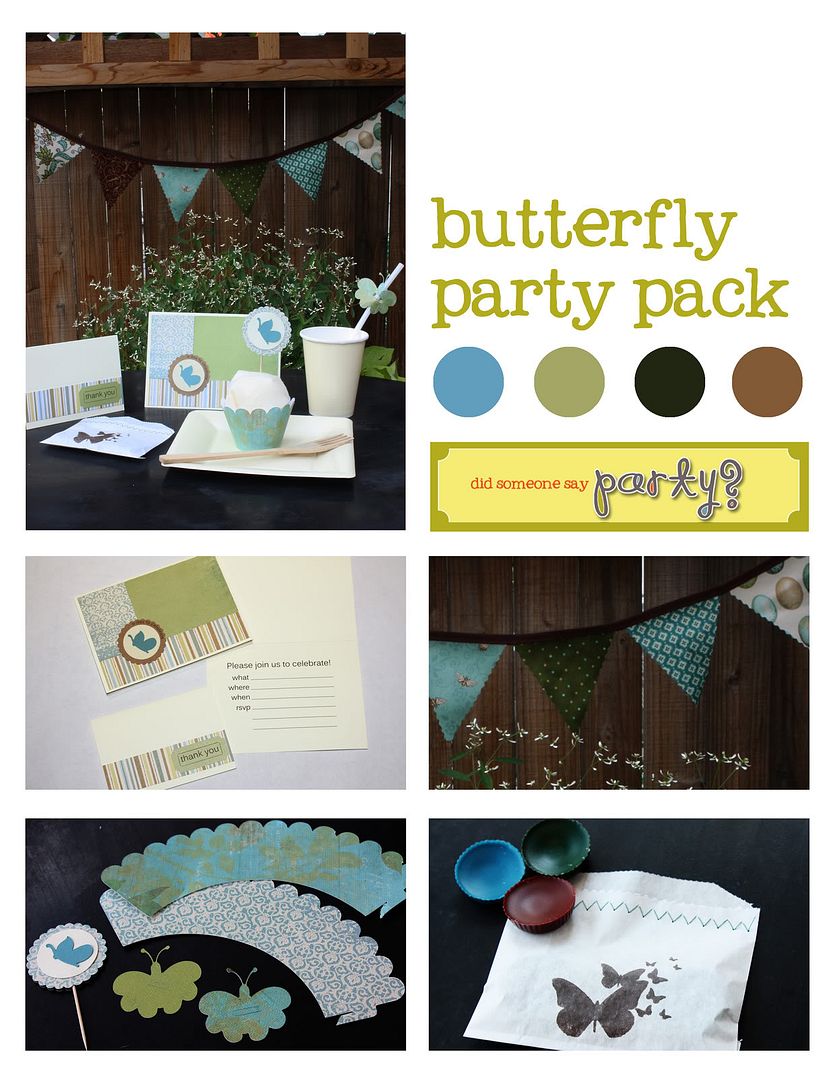 You know this is one of my favorites. There are some cute butterfly party product etsy finds that we shared previously. Today we'll share some more ideas on how to complement this party theme to take it to the next level. Our packs are designed to be a party in a box. But if you want to add an extra special touch these ideas are for you.
1. These little snack bags (courtesy of Baked Bree) are so cute and can be filled with just about any healthy treat you can think of. It's a pretty simple idea – snack size plastic bags clipped with a clothespin and decorated with some pipe cleaners. You can take it further and decorate the clothespin (here's an easy idea for using patterned paper to decorate the clothespins if you don't want to paint). You can add googly eyes to make them silly. Or if you leave the clothespin natural, it would look a little more grown up for the older girls.
2. This butterfly paper craft from Family Fun is more of an upcycling project – it uses colorful pages torn from magazines! Add pipe cleaners and you have a beautiful butterfly. These would be fun with book pages also – love the monochromatic look. You can make these ahead for décor, or involve the kids as an activity.(Here's a tip – this scoring board will make it super easy!)
3. These Butterfly apple sandwiches from Family Fun are brilliant – and a great healthy party snack. It's PB, apple, and carrot!
4. These beautiful cones are meant to be rice tossers for a wedding, but we think they'd be equally lovely with fun popcorn, candies, or trail mix inside! With the right paper, these could be made to look cute and casual or elegant like this example (tutorial is from Style Me Pretty).
Hope this helps give you ideas for your butterfly themed event! Make sure to check out our etsy picks for coordination with this fun pack.
We'd also like to point out that this pack is versatile enough to use for a more grownup event, like a baby shower or bridal shower! If you are interested, email or convo us on etsy for more information on alternate favors that you can choose from, including our handmade soaps!!