I think a lot of us get a little down in January. The cold, the snow, the letdown after the holidays, the short days - all of this can lead to a bit of a depressing month.
Since I have a January birthday, I've always had a reason to start the month off right and managed to enjoy the month. But I can see how winter can take its toll sometimes. So why not throw a snowman themed party to shake things up? I've been so inspired by what I've seen all over blogland in a snowman theme that I'm tempted to throw my own. Or perhaps it should be the next theme for my little one's birthday? (he's born the day after Christmas, poor kid!). Here's how I'd do it.
Appetizers? Snowman cheese ball courtesy of Kraft Foods.
Entree? Snowman Pizzas from Ziggety Zoom, of course!
Beverages? Milk. But Bakerella style.
Activities for the kiddos? Well making snowmen would be an obvious choice. But if the weather isn't cooperating, make Powdered Donut Snowman Treats from The Idea Room!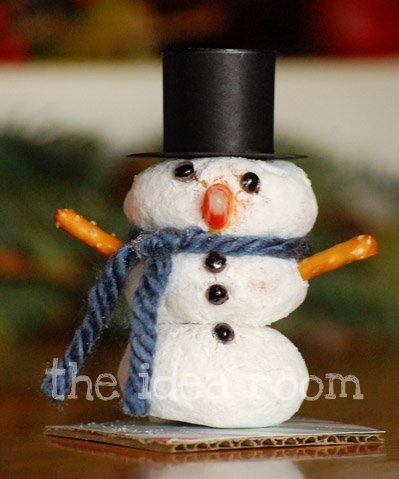 Dessert would of course be Snowman Ice Cream Shooters from Babble.
Favors for the kiddos? Why Snowman Playdough Kits from Ucreate!!
How can you have the winter blues after a party like that?