Back in
our Halloween candy post
, I suggested using candy instead of chocolate chips to make
these super easy chocolate croissants
I'd learned to make via Real Simple. I decided to take my own advice and give it a try for Easter! OK, so in reality, it was just an excuse to buy a variety of chocolate eggs and eat them for breakfast. All in the name of research, people!
These really are super easy to whip up, even if you don't have a big Easter brunch planned! It will make a nice treat even for just the kiddos on Easter morning. It might stop the incessant begging for candy from their Easter basket before breakfast!
Ingredients: Pillsbury crescent rolls and your chocolate of choice.
I tried regular chocolate eggs, mini Cadbury Cream Eggs (LOVE those things), and also a mix of mini caramels and chocolate chips, then some more traditional with just chocolate chips. You could say I've become addicted to these delicious breakfast pastries. All in the name of research, I said!
Directions: Unroll the dough and layout the triangles. Place your candy selection down on the larger end and roll up! Make sure it is sealed well so you won't have a chocolatey mess on the baking sheet.
Simply bake as directed. Serve these warm if possible so they are gooey and yummy. But I will admit they are still delicious the next day!
Hershey's Chocolate Egg Croissant
Mini Cadbury Cream Egg Croissant (YUM)
Top with candies or chocolate chips before baking if you are making more than one version and want to know which is which before you bite!
Chocolate Caramel Croissant
Now I just need to try mini peanut butter eggs! I'd love to hear your ideas for variations on this easy recipe!
Linking to: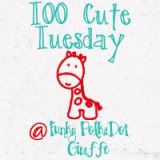 >