With both Easter and Mother's Day approaching, a breakfast or brunch get together may be in your plans soon. I love going out for breakfast, but on these two particular holidays, it is impossible to find a somewhere that doesn't have a line a mile long! So a brunch at home is a perfect solution!

Today we'll feature some clever savory recipes that will make your brunch gathering a success. What could be more perfect (or cute) than little individual servings of our favorite breakfast ingredients? It's the perfect way to serve up breakfast to a crowd!
1.
Mini Ham & Egg Cups by Our Best Bites
2.
Double Cheese and Bacon Egg Biscuits by Picky Palate
3.
Baked Eggs in Bread Bowls by Noble Pig
4.
Broccoli and Italian Sausage Egg Muffins by Snacking in the Kitchen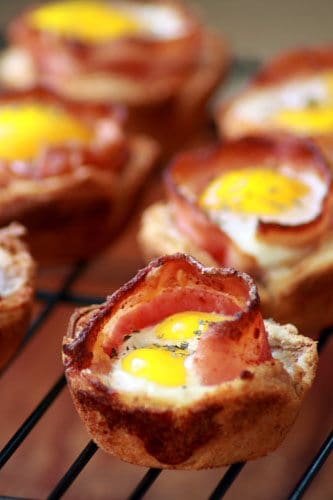 5.
Bacon & Eggs in Toast Cups by the Noshery
6.
Crustless Quiche in a Cup by Cooking with My Kid
7. Mini Spinach and Jarlsberg Quiches from Baked Bree
8. These Mashed Potato Egg Boats from Hey That Tastes Good are super easy – THREE ingredients!

9. GORGEOUS Ham and Egg Crepe Squares from Framed Cooks
10. Egg Stuffed Potatoes from Cheese and Chocolate.
How lovely would a brunch buffet be with some of these savory treats? Perfect for Easter or Mother's Day! Happy spring!!