Nothing spells more fun for a party than the combination of robots and rockets! Our sweet Robots in Space Party Pack is evidence of that.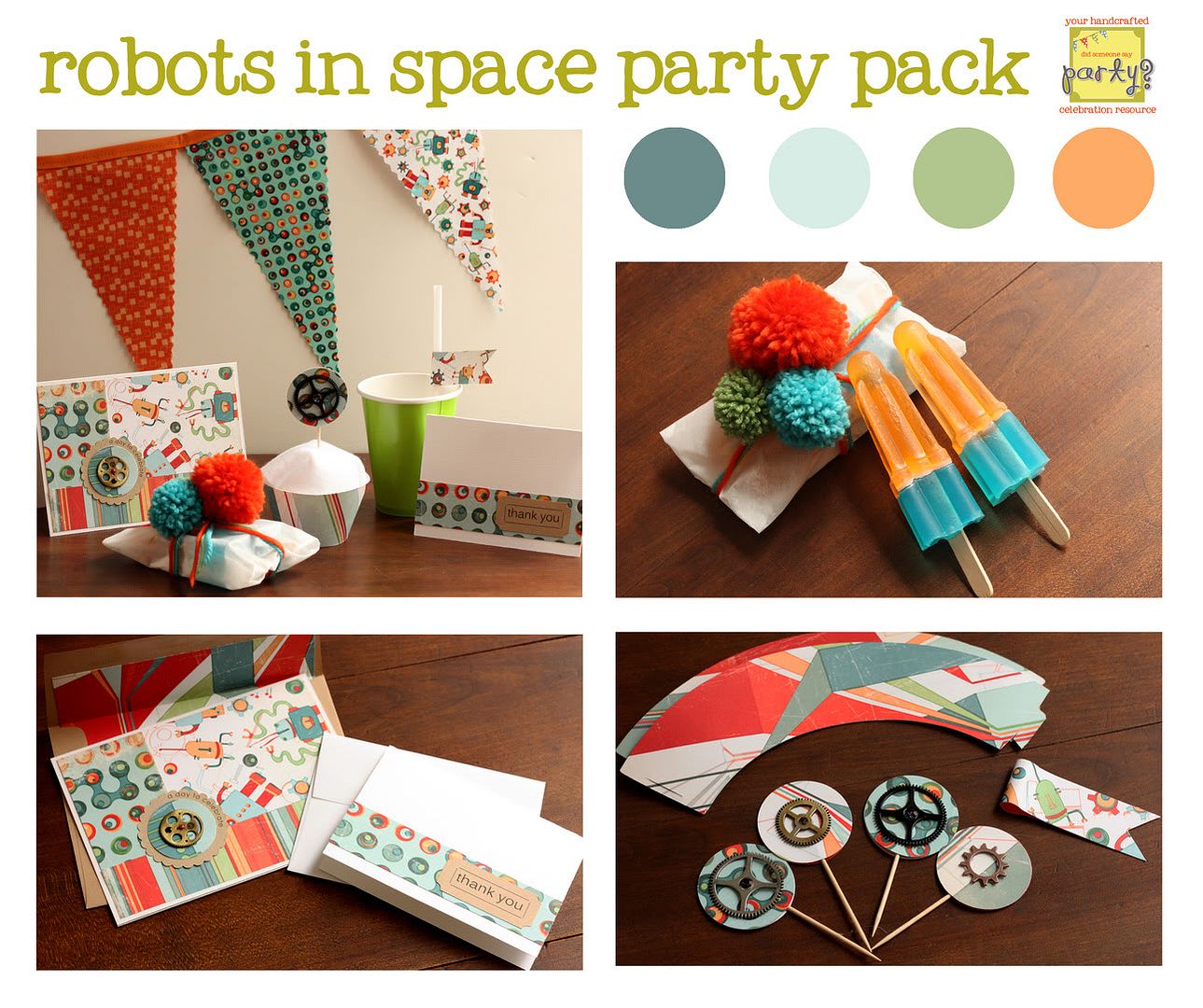 But what if you want to step up your party a notch and craft some extra décor to go with the theme? Or what if your kiddos are itching for a fun robot-themed activity? We got you covered with today's edition of Friday Finds. We are featuring some fun crafty finds to make your party a smash! Don't forget to check out our
Space Party Craft and Food Ideas here
too - they would work for this them as well!

1.
Lil Blue Boo has a free template for your own robot shirt applique
. Perfect for the guest of honor!
2. I love
this idea on ohdeedoh to have a handmade robot suit for the kiddos to dress in for photobooth pics
!
3. Or make this
cool Recycled Space Robot wear with Our Big Earth!

4.
Family Fun has some great ideas for these DIY robots
. These would make for cute décor OR a fun craft for the older kids. Gather some tin cans and random parts and you are set! Head to a thrift store for an old piece of electronic equipment (computer, phone, etc.) for gizmos and gadgets to add!
5.
Make a fun mix & match robot activity/craft with Serving Pink Lemonade!

6.
Make a DIY bean bag toss robot with My Kids Make
!
7.
Here are 15 Easy to Make Robot ideas at ohdeedoh.

8.
Betty Crocker has a video and template to make this cute robot cake!

9. Finally, pick up
this amazing cookbook
from
Bakerella
(LOVE her!!) to make your own cute robot cake pops (see the bottom pic in the center)! Trust me, this book ROCKS!

Of course, if it were my party, I'd have a dance-off with the kids after I taught them to do the robot. Just sayin'.
Happy Earth Day!!!